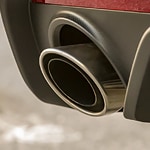 Some vehicles are meant to perform good and others are meant to perform great, and the Ford Mustang is a great performing vehicle. Ford Mustang is a popular sports car that has been a favorite of many drivers for many years. Hardly any age group doesn't love the Ford Mustang because of its great style, outstanding performance, numerous technology features, and its stylish and classy appearance. Come to Brandon Ford to check out the various models the Ford Mustang has to offer.
The Mustang has always been known for its performance and power, most of which come from both the seven-speed transmission and the 5.2 Liter supercharged V8 engine. Although this car does rumble, it also has a "Quiet Start" mode, which allows a quiet start to keep your neighbors happy.
If all this information has you excited, don't feel alone! Pay us a visit in Tampa, FL, and we can arrange for you to test drive the Ford Mustang and experience a ride like no other!